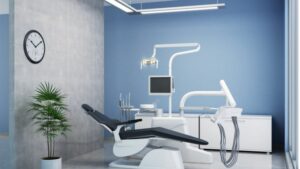 Is the thought of constructing a dental office in Houston giving you major headaches? With all the administrative and logistical considerations involved, it's no wonder that many dentists feel overwhelmed by the prospect. 
Turnkey construction from experienced builders can alleviate this stress for you—saving time, money, and effort while helping to ensure that the vision for your dental practice is fully realized. In this post, we'll discuss why turnkey construction should be at the top of every dentist's list when building an office in Houston. To discuss your project, contact our team today.
How Houston Turnkey Construction Works
When starting a new dental office construction project from scratch, it's important to consider all aspects of the build. That's where turnkey construction comes in. Based in Houston, turnkey general construction services offer a one-stop-shop approach for projects of all sizes. This approach includes everything from design and planning to construction and final walk-through. 
With turnkey construction, dentists can focus on their expertise while the construction team handles the rest. This ultimately saves time, resources, and ensures a seamless construction process from start to finish. So if you're looking for a stress-free way to build your dream dental office, turnkey construction might be the way to go.
Choose a Strategic Location for Your New Dental Office
Selecting the right location for your new dental office building can be overwhelming, but making the right choice is crucial to the success of your practice. Ensuring that your building is within budget, accessible from major transportation corridors, and close to your target customer base is key. However, you also want to make sure that your office isn't located too close to competitors. 
By carefully weighing all these factors, you can find the perfect location that will allow you to maximize your visibility, accessibility, and growth potential. With the right location, you can build a strong, successful practice and provide excellent dental care to your patients for years to come.
Identify the Required Square Footage for Your Practice
Before you start setting up your practice, it's essential to identify your square footage requirements. This means figuring out the number of operatories you need, the size of the waiting area, and any other space you require. Treatment rooms are especially important, with the average size ranging from 400 to 500 square feet. If you plan on having a small practice with four operatories, you'll need a space that measures about 1,600 to 2,000 square feet. 
By determining your square footage needs, you can ensure that your practice is comfortable and functional for both you and your patients.
Create a Practical and Welcoming Building Layout
When it comes to designing your building layout, it's important to ensure that your space flows naturally from one area to another. The last thing you want is for patients to feel confused or disoriented as they navigate your facility. Additionally, your building design should reflect your business style in order to establish your brand identity. 
The most important aspect to consider is the comfort of your patients. You'll want to create a welcoming and comfortable environment that puts them at ease, whether they're waiting in your lobby or receiving treatment in one of your patient rooms. By carefully considering these factors, you can create a building design and layout that not only meets your business needs but also caters to the needs of your patients.
Reliable Turnkey General Construction Services in Houston – Keeton Construction Services Construction
Working with a Houston turnkey general construction company can help make your vision a reality. Thanks to expertise and careful planning, your project will also offer attractive and innovative features that benefit both you and your patients. Turnkey construction offers advanced project management solutions so that your dental office is brought to life exactly the way you imagined. 
At Keeton Construction Services Construction, our commitment to reliable customer service means we are always available to address any of your questions or concerns during any phase of the project. So don't wait! Contact us for a quote today and let our team help bring your ambitious dream into reality!