Houston Commercial Concrete – Parking Lots, Driveways & Sidewalks
For dependable concrete parking lots, driveways, and sidewalks, our team of concrete specialists are here to help. We are a trusted Houston commercial concrete contractor with decades of experience installing a wide range of concrete structures. Whether you need a large parking lot to accommodate your customers or require heavy-duty driveways for commercial delivery vehicles, we offer solutions for every project type and budget.
Practically every property needs concrete surfaces for walking, driving, parking, and otherwise navigating the property. Yet, so many parking lots, commercial driveways, and sidewalks are in bad condition. This affects your reputation! No matter how well-designed your building is, if the pathways leading up to it are worn, cracked, or just poorly designed, it can affect how people see your property. Therefore, it's important to choose a quality Houston commercial concrete contractor for parking lot, driveway, and sidewalk installation.
Parking lots, driveways, and sidewalks must stand up to wear and tear from weather, cars, commercial vehicles, foot traffic, and other similar conditions. Over time, all sidewalks and parking lots will start to deteriorate. However, high quality surfaces can last decades with few maintenance costs.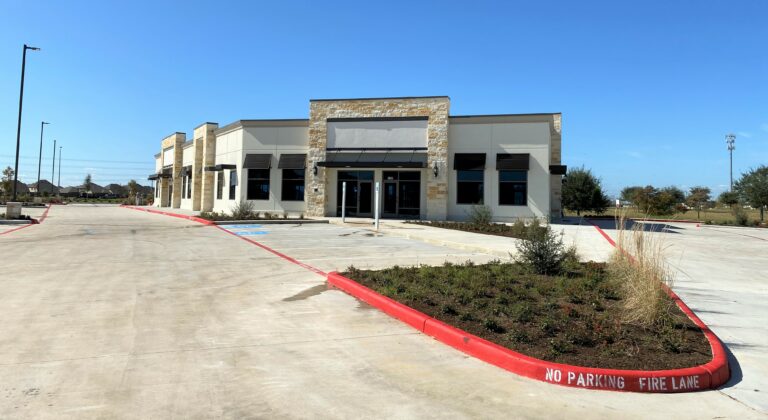 Parking lots and sidewalks are essentially concrete slabs specifically designed for easy walking and driving on a property. Driveways, parking lots, and sidewalks are critical infrastructure for your property. Design and construction of these concrete surfaces can make a significant difference in longevity, associated costs, and safety for everyone on your property.
Our team offers experienced concrete construction services for parking lots, sidewalks, and driveways for a wide array of properties. We offer comprehensive commercial concrete services to ensure you get high quality results at affordable prices. We handle everything from site planning and preparation to choosing a concrete mix and overseeing the curing process. We are your one stop for concrete parking lot and sidewalk installation.
Maintaining Concrete Driveways & Sidewalks
When you choose our team at KCS Construction for concrete driveway, parking lot, and sidewalk installation, you know you have high quality, durable infrastructure on your property. Some basic maintenance can help you maintain these surfaces so they will last for years. Regular maintenance is a great way to extend the life of concrete and ensure it is safe.
Fortunately, concrete is a low-maintenance option, particularly compared to asphalt. In most cases, you simply need to inspect and clean concrete driveways and sidewalks regularly to keep them in good condition. In some cases, you may need to reseal expansion joints or fill minor cracks that can appear over time. However, these projects are quick, convenient, and budget-friendly to encourage long-lasting parking lots and sidewalks.
If you need help with concrete parking lot, driveway, or sidewalk maintenance, our experts are here to help. We offer turnkey solutions whether you need new installation, repairs, or replacement. Contact us now to discuss your commercial concrete needs with our specialists.