Metal Buildings for Commercial & Industrial Use
Metal building construction is a popular option for both commercial and industrial buildings. As the top Houston commercial construction company, we offer cutting-edge construction methods for metal buildings of all types and sizes, including specialty metal barns and riding arenas.
Metal is one of the strongest and most durable materials on the planet, so it's no wonder we use many types of metal for construction. Metal buildings provide a low maintenance, long-lasting building that is suited for even extreme weather conditions. You can use metal buildings for just about anything, including:
Metal building construction is ideal for commercial construction projects with expedited timelines. In many cases, metal buildings can be complete in just a matter of weeks. In addition to speedy completion, metal buildings are also often a more economical option for commercial and industrial construction.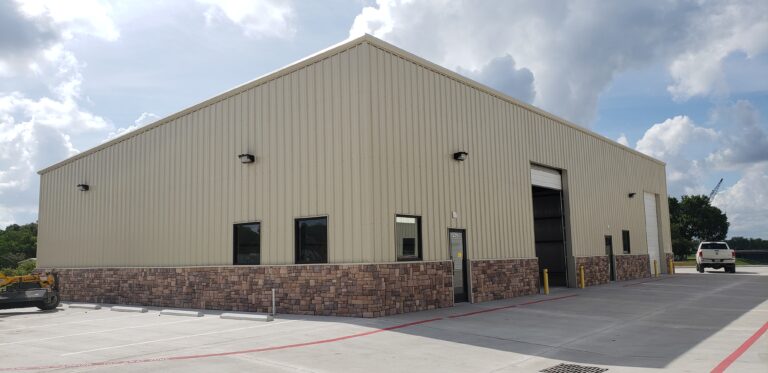 Hiring our specialists at Keeton Construction Services Construction for your metal building construction project gives you the advantage of experience. Our construction expertise and familiarity with metal buildings allow us to provide the highest quality services at cost-effective prices and with faster completion times. We've completed countless custom metal buildings and can help with design and construction to suit your needs.
Commercial Metal Barns & Arenas
Many ranchers and farmers prefer metal barns because they are more durable, low maintenance, and cost-effective than traditional wood barns. Metal building construction services from our commercial construction team can provide a barn for livestock housing, equipment storage, hay storage, and other applications. Metal barns are fire resistant, long-lasting, and often more economical than wooden barns while providing similar aesthetics and function. Our construction experts offer turnkey services for metal barn construction.
Covered horse riding arenas offer a more controlled and protected environment for many activities. Metal building construction offers durable, low-cost options for creating riding arenas for your needs. These structures feature a roof to help provide shade and protect from inclement weather while horse riding. Our team designs and builds these metal buildings based on your goals. We offer competitive pricing and fast turnaround times for metal riding arena construction.