Tilt Wall Construction – Concrete Construction
If you need top quality tilt wall construction services, choose our team at Keeton Construction Services Construction. As a leading Houston commercial concrete contractor, we provide high quality, turnkey tilt wall services for buildings of all types and sizes. Gain the advantage of experience by hiring us for your next construction project.
Tilt wall construction offers many benefits for modern low rise buildings. This construction method uses concrete panels that are cured on the ground of the construction site. Once cured, the concrete panels are tilted up into place with a crane to form the walls of your building.
Using concrete for buildings is nothing new. In fact, many ancient Roman buildings made of concrete still stand today. However, tilt wall construction is an innovation from the 20th century. This construction option is becoming more and more popular in modern times due to innovations that make tilt wall simpler, safer, faster, and more economical.
At Keeton Construction Services Construction, we specialize in concrete construction. We utilize this incredibly strong and durable building material to create the perfect facility for your needs. Our team has used tilt wall concrete construction for a variety of buildings, from retail facilities to warehouses. Our seasoned professionals partner with you to provide end-to-end services. We can help with design, engineering, and construction to provide you with a high quality, durable, and low-maintenance building in no time.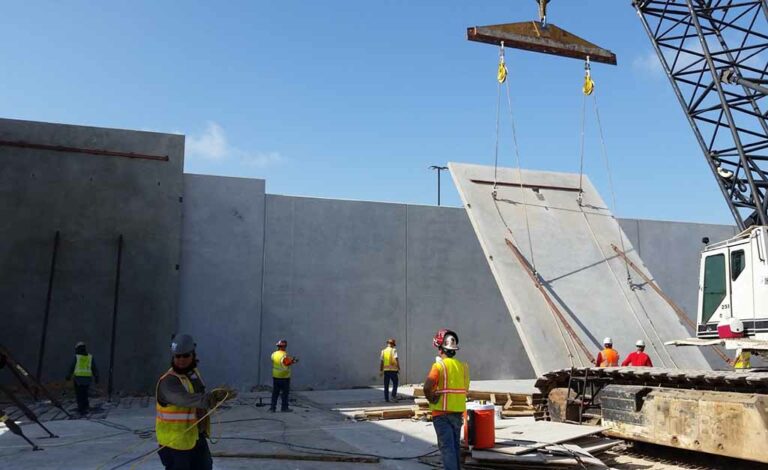 Cost-Effective Concrete – Shorter Completion
Tilt wall construction is incredibly cost-effective. Concrete often comes from local suppliers, typically at a fraction of the cost of more traditional building materials like wood. This construction method also often means fewer labor costs. Therefore, if you have a tight budget for your commercial construction project, tilt wall may be the perfect solution. In addition to reducing upfront costs, concrete buildings are also incredibly low maintenance. Concrete buildings are also energy efficient, which means spending less for heating and cooling. Therefore, you can also expect reduced long-term costs for concrete buildings.
Fast Construction Completion
Another benefit of tilt wall construction is it is quick. When you choose tilt wall concrete construction, you can be in your building much faster. With our design build tilt wall services, we can even start building concrete panels while finalizing other design elements, saving large amounts of time in the process.
Customized Design Options
If you think of gray, rectangular buildings when you think of concrete buildings, think again. Tilt wall construction actually offers a lot of versatile options for interior and exterior finishes. We can apply specialized finishes that look like everything from stone to stucco on concrete buildings and also provide customized commercial painting to make your building stand out and match your brand. We're here to help design a building that suits your aesthetic and needs.
Let our team help with all your construction needs. Reach out today to discuss your project with our experts and get a bid for tilt wall construction services.