Houston Commercial & Industrial Roofing
We are the foremost authority on commercial and industrial roofing in Houston. Our trusted roofing experts provide a wide variety of roofing services to help keep your roof in great condition. From installing a roof from scratch during new construction projects to replacing old, worn out roofs, we have solutions for all your roofing needs. Our professionals provide top quality services for a wide range of commercial roof projects, including:
residential roofs, which are much different from industrial and commercial roofing systems
. Many commercial and industrial roofs are flat or low slope, as these roofs are often faster and more cost-effective to install. Installing, repairing, and replacing these roofs is much different than working on a residential roof. Therefore, it's critical for your building's safety and longevity to choose roofing contractors with experience working with industrial and commercial properties.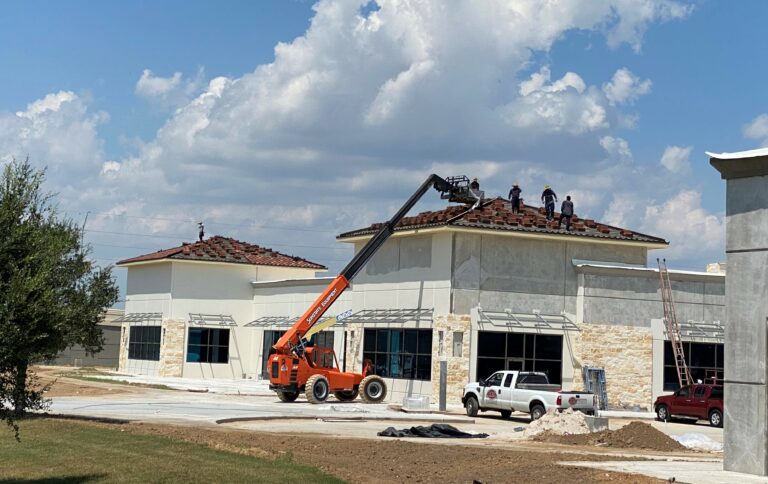 In addition, the contractor you hire for your roofing project affects how durable your building's roof is. Cut-rate roofers may use low quality materials and cut corners to save time and money, which can also lead to more frequent repairs and replacements later. As a qualified roofing company that prioritizes quality, you can trust our craftsmanship to last and keep long-term costs low.
Commercial Roof Replacement, Repair & Restoration
Whether from normal wear and tear over time or during extreme weather, roofing damage puts your building at risk. Our team is here to provide cost-effective solutions for commercial roof repair, restoration, and replacement. We offer quick response and fast turnaround to get your building back to normal in no time. With our years of experience in the roofing and commercial construction industry, you can trust our experts to provide high quality repairs and replacements that will last for years to come.
No matter how well-designed and well-maintained your commercial or industrial roof is, every property owner will need commercial roofing repairs and replacements at some point. It's important to know you have a reliable roofing contractor you can call at a moment's notice when you need repairs and replacements. Our goal is to provide practical, economical options for keeping your roof safe and increasing it's expected life cycle. When your roof has reached the end of its useful life, we offer innovative replacement options for durability and longevity.
Why choose our roofing experts at KCS Construction? Since 2001, we've been providing high quality construction and roofing services to property owners and real estate developers throughout Houston. Every member of our team receives extensive training to ensure you receive the exact services you need for success. We're dedicated to quality, safety, and exceeding your expectations on projects large and small.
Get in touch today to discuss your industrial and commercial roofing needs with our specialists.