Metal & Steel Buildings for Industrial & Commercial Use
Metal building construction is a popular method for construction, but not every Houston commercial general construction contractor is up for the job. Our metal building specialists provide top-quality pre-engineered construction solutions for buildings of all types and sizes. Choose our experienced team for peace of mind for your commercial or industrial construction project.
Metal buildings are some of the most versatile and economical options for commercial construction. Our team at KCS Construction offers turnkey solutions for this increasingly popular construction option. As an industry innovating Houston commercial construction company, we are here to provide a wide range of metal construction services for your needs.
Pre-engineered metal building construction is a fast, cost-effective, and durable option for commercial and industrial construction projects. This construction method involves manufacturing building components out of steel at a fabrication plant. Pre-engineered metal building construction allows for detailed quality control because most of the manufacturing occurs in specialized facilities. One all the pieces are produced, they are moved to the construction site where our team assembles them into a finished building.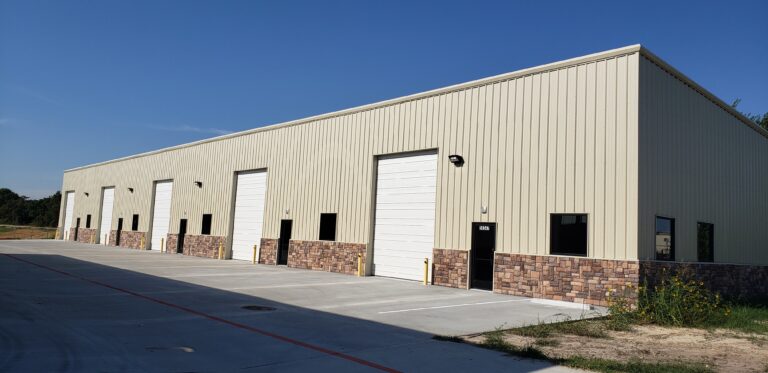 Pre-engineered buildings offer many advantages over traditional construction methods. First, they can significantly cut down on the time from concept to completion. Metal building construction with pre-engineered methods can produce a building in just a matter of weeks or a few short months, compared to traditional construction options that may take several months or years to complete. In addition, pre-engineered metal buildings are also cost-effective, as materials are readily available and inexpensive and they require less labor to construct.
When you hire our Houston commercial construction company for pre-engineered metal building construction, we offer comprehensive service for your project. Our experts can help with everything from pre-construction estimating to building design and construction management. As an industry innovator, we are here to streamline your commercial construction project from beginning to end.
Structural Steel Fabrication
Part of metal building construction includes fabricating the structural steel for your building. Structural steel fabrication includes specialized services like cutting, bending, and assembling metal components that make up the framework of your building.
As a leading metal building construction company, we offer structural steel fabrication services. Fabricating and assembling structural steel ourselves allows our team to provide enhanced quality control, ensure efficient scheduling to reduce delays, and also cut out the middleman to keep costs low for your project.
At KCS Construction, we offer decades of experience and an unparalleled dedication to excellence. Our team goes above and beyond to meet and exceed your expectations, no matter how large or small your construction project. With design build construction from our team, we can start adding value for your construction project from day one to ensure your project is completed on time, on budget, and to your high quality standards.
Contact us now to discuss pre-engineered metal building construction with our experts.