Houston Concrete Contractor for Commercial Construction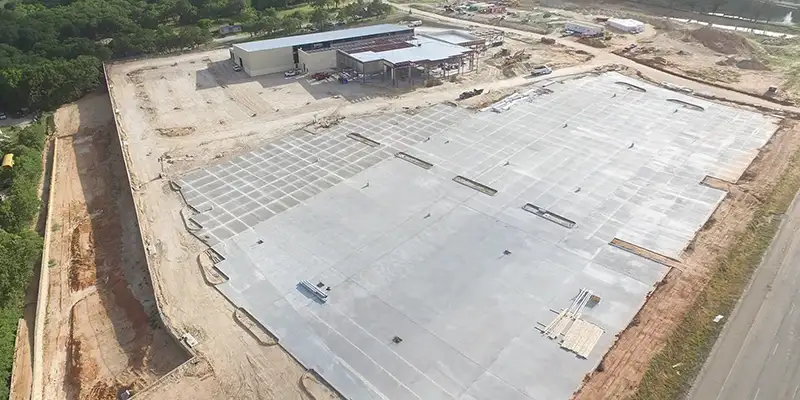 No matter your concrete needs, our experts have solutions for you. We offer top quality commercial concrete construction to help owners and developers create and enhance their properties. When you choose our team as your Houston commercial concrete contractor, you get a knowledgeable team on your side for your entire project. What makes us different from other concrete contractors is our state-of-the-art equipment, well-trained team, certified civil engineers, and experienced managers on-site to help streamline your project. We also utilize high performance concrete materials to ensure reliable, sturdy results.
We are your one-stop for commercial concrete construction, including:
Our team can also help with other property-enhancing concrete structures like floors, stairs, accessible ramps, and other projects for commercial construction. We are equipped to handle any commercial or industrial concrete project and offer fast turnaround times and competitive prices.
We are a turnkey commercial concrete contractor and handle all stages of the process for simple, convenient construction and quality assurance. From site planning and preparation to selecting a concrete mix and managing pouring and curing, our team provides comprehensive service. Whatever your concrete needs, you can trust us to get the job done.
From Foundations to Tilt Wall Concrete Construction
Commercial concrete is necessary for practically every industrial or commercial building. Concrete makes up the foundation on which buildings are constructed, sidewalks that lead customers to your doors, and may even make up the walls of your facility. To put it lightly, concrete is important, and so is your choice of Houston commercial concrete contractor.
We pride ourselves on being a trusted concrete contractor for a wide range of commercial construction  projects. Our team has provided concrete services for countless projects. Above all, we are committed to quality and safety, which means you get peace of mind for your project. We guarantee your complete satisfaction whether you have a small concrete pouring project or need our tilt wall concrete construction services for a brand-new facility. Our team provides unparalleled service and attention to detail for projects of all types and sizes.
Quality is paramount for safe structures. Even one small detail that slips through the cracks can create catastrophic concrete failures, from improper site preparation to using the wrong concrete mix for the job. You need a team with experience to ensure your concrete is strong and durable. We bring quality and so much  more to the table for commercial concrete projects. Our team has the training and skill needed to ensure each step of the process is successful for safe and long-lasting structures and surfaces.
If you need a Houston commercial concrete contractor, contact us today to discuss your project with our seasoned concrete experts.