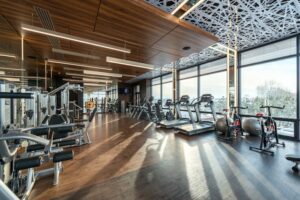 If you have a dream to create a one-of-a-kind fitness center in the Houston area, a company experienced in turnkey general construction can make your dream a reality. With the help of a turnkey general contractor, you can bring your vision to life and give your clients a world-class fitness experience that will inspire them to keep coming back for more. 
Turnkey construction saves you from having to manage multiple contractors, allowing you to focus on other aspects of your fitness center's development, from marketing to equipment sourcing. From streamlining communication between design and building teams to preventing costly misunderstandings, turnkey construction solutions can provide everything you need for a successful building project, from start to finish. Give us a call today to discuss your project.
Turnkey Construction Saves You Time and Effort
Turnkey construction means that a single company manages the entire building process from the design stage to the completion of the project. By partnering with a Houston turnkey general construction company, you can rest assured that your fitness center will be constructed to your specifications within the timeframe and within budget. 
With a turnkey provider, you can reap multiple benefits such as streamlined communication, cost savings, and improved productivity. The beauty of hiring a turnkey provider is that they handle everything from conception to completion, allowing you to sit back and relax while your project is completed efficiently and professionally. Additionally, with a Houston-based provider, their local knowledge and connections can be a huge advantage by streamlining any permit processes and expediting your project timeline. 
Don't let the construction process be a headache—opt for turnkey construction and watch your fitness center come to life seamlessly.
Designing a Fitness Center Space for Maximum Efficiency
Building a fitness center in Houston can be a great investment, but it requires careful consideration. Your fitness center design should be based on clear goals and objectives. Do you have a niche approach such as CrossFit, boxing, or barre? Or do you aspire to create a comprehensive fitness center appealing to a broader demographic? Identifying highly detailed goals will influence the design of your fitness center and the selection of equipment and facilities. Remember, your main goal is to offer a functional and enjoyable environment that keeps your members active and motivated.
Your design should also optimize your fitness center's space for maximum efficiency. Each area in the building should serve an intentional purpose. Consider creating zones for different functions. For example, if you're offering a variety of classes, you will need to identify separate areas for cardio, strength training, group classes, and relaxation. Also, take into account the flow of traffic. For instance, keep high-intensity areas separate from relaxation zones to avoid disruption.
Think about the location of your fitness center, as well as the size and layout of the building. It's also important to consider the needs of your target audience and what type of equipment and amenities they will require. 
Choosing a turnkey contractor guarantees that these factors are fully thought out during the design phase. With turnkey general construction, your Houston fitness center will be designed for maximum efficiency while fulfilling your specific goals.
Choosing the Materials That Match Your Style and Approach
The materials you choose not only can greatly affect the functionality and longevity of the fitness center, but they are critical in creating a specific type of atmosphere. The choice of materials reflects the style and approach of your fitness offerings and should appeal to the relevant clientele. 
Consider the effect of strong, traditional materials like brick, metal, and concrete, versus the impression of natural wood, glass, and fabric. There is a wide variety of materials to choose from and endless combinations you can make. So consider the aesthetics, durability, and cost of each one when making your selection. 
Tips for Making the Most out of Turnkey Construction for Your Fitness Center in Houston
When it comes to building a fitness center in Houston, opting for turnkey general construction can be a great decision. First and foremost, choose a reputable construction company with experience in the industry. Additionally, be sure to communicate your exact needs and vision for the space to ensure that the finished product matches your expectations. Strategically selecting appropriate materials and sourcing the right equipment will also make a big difference in the building quality and appeal. With these tips in mind, you can ensure that your turnkey project results in a state-of-the-art facility that achieves your vision and draws in clients.
Turnkey Services for General Construction in Houston
KCS Construction offers turnkey general construction services in the Houston area. Whether you need something as simple as commercial painting or are starting a new build from the ground up, we have skilled professionals to make it happen. 
We are committed to providing professional quality services at an affordable price—that's why our satisfied customers return time and again for their projects. We understand that each project is unique, so we strive to understand your needs and create custom solutions that meet them efficiently and effectively. 
If you live in the Houston area and are considering a turnkey construction project, look no further than KCS Construction. Contact us to discuss your project today!