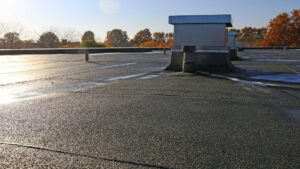 To prevent unexpected costly repairs or replacements, keeping your commercial building in top condition is of the utmost importance. This requires proactively scheduling regular maintenance with your Houston general contractor. Unfortunately, it's easy to overlook one of the most important components: your roof! 
Keeping up with roof repair and maintenance is vital for protecting the integrity of your building. Roof coatings are ideal for many buildings that have flat, non-shingled roof surfaces. They provide superior protection against water damage and other common threats, without breaking the bank. 
In this post, we'll explore why investing in coating technology can be beneficial for your commercial building, plus all the reasons why these preventative measures should be taken. Keep reading to learn more about how roof coatings can benefit you! Get a quote for your building by contacting our team at KCS Construction today.
Roof Coatings Are a Great Choice for Commercial Buildings in Houston
Houston's climate can be tough on buildings with its high heat and humidity, but there are types of roof coatings that can help. Roof coatings provide a protective barrier that can help extend the life of your roof, while also reducing energy costs and increasing reflectivity. They can also prevent leaks and other potential issues on flat-roofed buildings.
Acrylic roof coatings provide UV protection and reflect sunlight to keep the roof cooler. Silicone roof coatings can withstand extreme temperature fluctuations and provide excellent leak protection. Both types of roof coatings are beneficial in Houston's climate, as they can help extend the life of the roof and reduce energy costs. 
Anticipated Lifespan of Your Commercial Building Roof Coating
As a proud owner of a commercial building, you want to ensure that every aspect of your property is in top condition for years to come. To ensure your coating is applied properly and lasts as long as possible, a Houston general contractor will need to thoroughly clean and prepare the roof surface beforehand. They should also work with you to choose the right type of coating for the specific roof material of your building. 
When properly applied and maintained, a commercial roof coating has an anticipated lifespan of up to 15 to 20 years. However, this lifespan can vary based on factors such as the type of coating used, the climate, and the level of maintenance performed on the roof.
When it comes to maintenance, you should ensure your contractor performs regular inspections and repairs any damaged spots on the coating surface. This will go a long way in extending the lifespan of your roof coating. It will also help prevent costly future repairs to the roof surface. With proper care, your commercial building's roof coating can continue to protect your property and provide peace of mind for years to come.
Work with an Experienced General Contractor in Houston
Roof coatings are an excellent choice for any commercial building in Houston with a flat,  non-shingled surface. They protect the roof from heavy rain and intense sun to help maintain the integrity of your building. The installation process needs to be performed properly and some maintenance is required over time, so it's essential to call professionals like KCS Construction who specialize in construction services for commercial properties including commercial painting. 
If you are looking for an excellent way to save money on your investments while protecting your property, then don't hesitate to contact us for a quote today! Let KCS Construction show you how easy it can be to get the job done right every time.