When working with commercial painting professionals in Houston like Keeton Construction Services Construction Company, we can help you make the right choices when planning your office building, warehouse or industrial complex remodeling project. One of the most important decisions is likely to be the type of paint used for exterior and interior areas. Both oil-based and latex paint products are readily available and can produce excellent results for your upcoming commercial painting project. Here are some of the most important pros and cons of each of these paint options.
Drying Times of Oil vs Latex Paint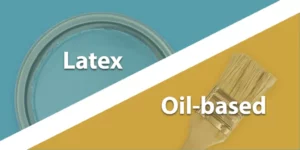 Latex-based paints dry far more quickly than their oil-based counterparts, and latex is a good choice when time is of the essence. Oil-based paints can take up to two days to dry fully; latex paint, by contrast, usually takes only two or three hours to dry. Latex formulations do require a prolonged curing period; it may be 14 days or more before these surfaces are safe to wash or clean.
Durability of Commercial Paint
For most commercial applications, oil-based paints offer far superior durability and resistance to staining and fading. Latex paints can absorb stains to make clean-up difficult. Exposure to sunlight can also cause fading for latex paint applications. The glossy finish characteristic of most oil-based paints can prevent stains from soaking in and can offer greater resistance to the effects of prolonged exposure to sunlight. This added durability can increase the appeal of oil-based paints for budget-conscious building owners and property managers.
What are Volatile Organic Compounds (VOCs)?
Most commonly referred to as VOCs, volatile organic compounds have been linked to a number of health issues. Most oil paints contain VOCs that are released during painting, drying and curing. These chemical compounds can significantly reduce the quality of indoor air and can cause headaches, respiratory difficulties and dizziness in vulnerable individuals. As a result, latex-based paint products are becoming more popular for interior use. Oil-based paints are still preferred by many Houston industrial painting companies for exterior projects, however, thanks to the increased durability of these formulations.
Commercial Painting Services and Cost
For larger painting projects, the differential in cost between latex and oil paints can be significant. Oil-based paints typically cost more than comparable latex-based products. The increased durability and resistance to staining, however, may make oil paints a more cost-effective choice over the long run. Latex applications may require several coats of paint to ensure full coverage and may require more frequent touch-ups and repainting. Considering the ongoing maintenance costs and the projected useful life of the paint application can help property owners and managers make the best use of available funds when repainting commercial or industrial buildings.
Ease of Application in Commercial Painting Applications
Latex paints offer easier application and clean-up for most commercial projects. Oil-based products require the use of solvents to clean brushes and remove any spills; latex clean-up can usually be completed using soap and water. On the other hand, oil paint products may require just one coat for coverage depending on the formulation chosen. Latex paints typically require two or more coats to ensure a smooth, even application for these products. This can sometimes add significantly to the time needed to complete painting tasks, increasing the overall cost of labor for your commercial painting project.
A Special Note
It is a good idea to apply a primer coat before painting Houston metal buildings. This can allow latex or oil to adhere more effectively, reducing the risk of peeling or cracking. Metal primers are available in a range of application methods and formulations. Consulting with your local painting company can help you choose the right products for these special cases.
Entrusting your renovation and remodeling projects to an established Houston commercial painting company can help you manage costs and scheduling more effectively, allowing you to achieve the best possible results. By working with professional painters, you can also enhance the durability and beauty of the finished project to provide added appeal for tenants in the Houston commercial real estate marketplace.