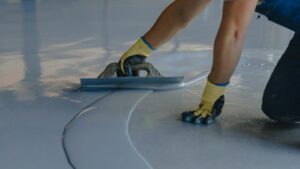 There are many types of coatings we offer as a top industrial painting contractor in Houston. Non-slip coatings are some of the most popular for floors to prevent slip and fall accidents and improve traction in your industrial plant. There are many reasons to consider non-slip coatings for your facility, as well as several types to choose from. Keep reading to learn some of the benefits and types of non-slip floor coatings for industrial facilities. 
If you need commercial or industrial painting or coatings, contact our team now.
Benefits of Non-Slip Floor Coatings from Your Industrial Painting Contractor
There are several reasons to consider non-slip floor coatings from your industrial painting contractor. Practically every industrial workplace poses a risk for slips and falls. In fact, research shows that slips and falls cause about 8 million visits to the ER every year and they are the leading cause of workers' comp claims. What's more, experts estimate that floors and flooring materials directly contribute to about 2 million fall injuries every year. Ensuring that your industrial floors are non-slip can improve safety for your facility. 
With non-slip coatings from your industrial painting contractor in Houston, you can improve traction on flooring to prevent slips and falls. These coatings generally utilize small particles to create a slightly textured, gripping surface. You can find them in a wide range of colors and types to customize the look of your building and to create designated areas for certain tasks as needed. Another benefit of non-slip floor coatings is that they often help protect flooring materials so they last longer without the need for maintenance or replacement. 
Types of Non-Slip Industrial Coatings
There are several types of non-slip floor coatings you can choose from. The exact type that is best really depends on your facility and application, which is why it's necessary to talk to your industrial painting contractor in Houston about your project. The most popular industrial floor coatings include:
Epoxy

Polyurethane

Polyaspartic
Epoxy coatings are some of the most popular because they're incredibly durable and resistant to things like acids and oils that may be present in industrial applications. However, they are less flexible than some other coatings, making them more vulnerable to damage with temperature changes and substrate shifting. They also do require up to a week or more to apply and cure. 
Polyurethane coatings are more flexible than epoxy coatings, but offer similar durability. One of the major disadvantages of this type of industrial coating is that it's difficult to apply and cure properly, which is why you'll need an expert industrial painting contractor for these types of coatings. 
Another popular non-slip floor coating option is polyaspartic. These coatings are much faster to apply and cure, so there are fewer disruptions to your operations. They are also low VOC, so they're perfect for indoor applications. However, one potential issue is that they don't adhere as well as other options, so they may not be as well-suited for some industrial applications. 
Industrial & Commercial Painting Solutions from KCS
When you need expert industrial and commercial painting, look no further than our team at KCS. Our team is proud to provide the Greater Houston area with the painting and specialty coating services you need to protect and enhance the look of your facility, whether you manage an industrial plant or a retail store. We offer comprehensive services from prep work to the final touches for all your coating and painting requirements. Get in touch today to discuss your painting and coating needs with our specialists.