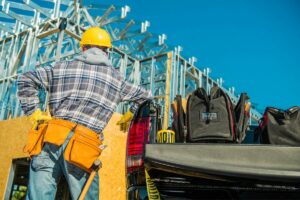 When it comes to building your new commercial building, there are many things you'll need to consider. One of the first things to decide is the type of material you want your building made of. Wood and steel are both incredibly common options, with Houston metal building construction becoming ever more popular. So, how do you decide on which material to use? It's essential to know the differences and some of the pros and cons of each of these construction materials. Read on to learn more about wood versus metal for your commercial building. 
If you need turnkey construction services, contact our team now. 
Difference Between Metal Building Construction and Wood Buildings
Metal building construction is a method of construction that uses metal, usually steel, as the main structural material for the building. This means that the framing is generally made of steel beams. Similarly, wood building construction uses lumber for the structure of the building. Though, keep in mind that most people typically can't tell the difference between these two buildings by looking at them, since they often use aesthetic cladding and interior finishes to really customize the building. For instance, a building may look like it's made of natural stone, but more than likely the actual structure is made of something else and the stone is just an exterior finish. Many of the buildings you frequent are either wood or metal, even if you don't know it from looking at the walls or the facade.
Wood vs. Steel for Houston Commercial Construction
When it comes to choosing between wood and steel for your Houston commercial construction project, it's best to discuss the advantages and disadvantages with your construction team. They can provide guidance based on the specifics of your project. However, here's some general information to help you start thinking about what might be best for your building. 
Wood is one of the oldest construction materials. When you build with wood, there are many different types of lumber to choose from, like the size and the tree species. This makes it easy to customize to different projects. It also has some natural insulating properties. However, there are several downsides as well. For instance, wood is susceptible to damage from moisture, pests, fungi, and fires. Additionally, while the cost of lumber is typically lower than steel overall, the actual construction costs and long-term maintenance costs for the building are often higher for wood than for steel buildings. 
With Houston metal building construction, you get a strong, extremely durable building that requires little maintenance over time. Additionally, steel is resistant to pests, fire, and fungi, so there's less risk of damage to your building from these issues. Another important benefit is that metal building construction often involves pre-engineering, meaning that it's often much easier to construct a commercial building with steel. As a result, the construction process is often faster and less expensive overall compared to wood. Some of the disadvantages of steel as a construction material is that it's difficult to insulate and it can be vulnerable to corrosion. While there are solutions for insulating metal building panels and preventing corrosion with anti-rust coatings, this is also important to keep in mind when comparing wood to steel for your commercial building. 
Get Construction Services from Keeton Construction Services Construction – a Top Houston General Contractor
Wood and steel are common building materials you may consider for your commercial construction project. The best source of information to help you decide is your general contractor. When you work with a top general contractor like Keeton Construction Services Construction, you'll receive all the oversight and management you need for a successful, on-time, and on-budget building. We offer over 22 years in the business and provide total construction solutions for a truly turnkey experience. We'll handle everything from project estimating and land development to construction for your building. Contact us now to discuss your project with our construction experts.