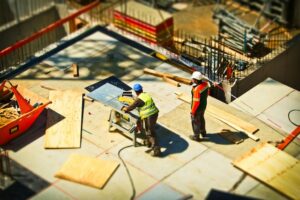 More and more people are aware of environmental issues today. This has led many real estate investors and business owners to prioritize green construction practices. It's essential to work with a Houston general contractor experienced in green buildings to ensure your project reduces impacts not only on the environment, but human health. In this article, we'll discuss what green buildings are, the advantages, and a little bit about the process of constructing green buildings. 
Get started with your project today by contacting our team.
Talk to Your Houston General Contractor About Building Green Buildings
Green buildings are buildings that are better for the environment and human health. This means ensuring that the construction process as well as the final result is eco-friendly and prioritizes health. There are even certifications available for green buildings, like the Leadership in Energy and Environmental Design (LEED) program from the U.S. Green Building Council. 
There are several reasons to discuss green construction processes with your Houston general contractor. After all, these buildings come with many benefits, including:
Sustainability is great for PR, as consumers care about environmental issues

Green buildings are better for the environment

They reduce operation costs for things like energy and water use

They can promote better productivity because there are fewer potentially toxic materials in the building
Additionally, you can work with your Houston general contractor to make sure that your project still fits within your budget. While green practices in the past were quite expensive, today many of them can even save money for your construction project. 
How Does Houston Commercial Construction Work for Green Buildings?
Green buildings focus on sustainability during and after Houston commercial construction. Therefore, there are many different steps, processes, and best practices for constructing green buildings. 
For instance, during the design phase, architects and engineers work hard to prioritize eco-friendly features. For instance, including a lot of windows so you can take advantage of natural light during the day. This can reduce the need to run electricity to lights inside the building. Also, selecting fixtures like low-flow faucets or LED lights that reduce consumption of non-renewable resources. 
Additionally, it's important to think about the actual construction phase. There are many ways your Houston general contractor can reduce environmental impacts even during construction. For instance, reducing construction site waste and recycling everything possible helps keep waste out of landfills and promote more eco-friendly processes. Not only that, but it often can reduce costs for waste disposal. Another example is ensuring that Houston construction management pros work hard to stop things like unnecessarily idling equipment like dump trucks and excavators. Making adjustments like these can help make your project more environmentally-friendly so you will have a green building at the end of it. 
Top Quality Construction Services from KCS Construction
Our team at KCS Construction offers trusted commercial construction services throughout Greater Houston. We offer over 20 years of experience and have worked on some of the largest commercial projects in the area. No matter your construction needs, we have the expertise to meet and exceed them. Get in touch today to discuss your project with our construction specialists.