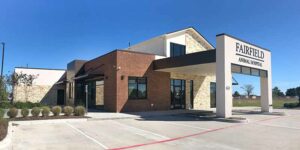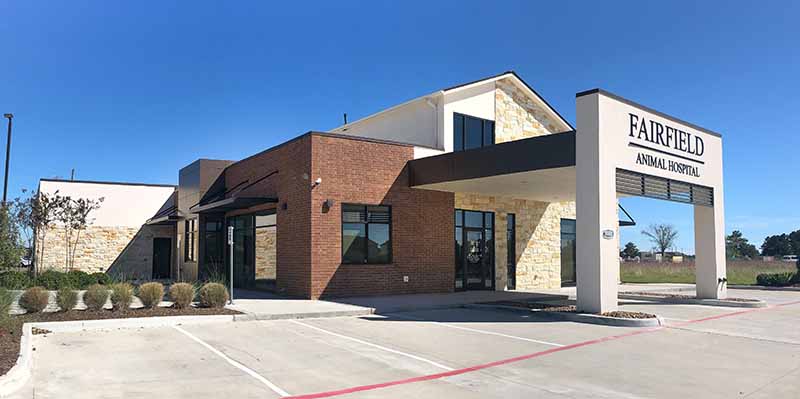 Have you ever thought about designing and constructing a new veterinary hospital building? The veterinary clinic building is a key investment for your business, and the design process can often make it a challenging project. When done well, your veterinary clinic building should inspire confidence in clients and potential clients by demonstrating your importance on quality care. As a Houston general contractor, we help with design and construction of your vet clinic. Here are the steps to creating a veterinary hospital design that you can be proud of.
How to Design the Best Veterinary Hospital
In order to build or renovate a veterinary hospital, you need to understand the needs of both pets and humans. It's more than just the animals that are being treated who need care. It's also important to consider those who are treating them. In order to make sure your animal clinic design is comfortable and healthy, there are certain aspects to incorporate into the design of your veterinary hospital.
First, consider how your hospital will be used. Some of the questions to ask when planning your vet clinic include:
Will it be used for routine medical care? 

Will it also be used for surgeries? 

How much space do you need to treat patients and accommodate their families?
You want to make sure that every aspect of your facility can accommodate the types of services and procedures your practice offers. This includes housing areas for sick animals and surgical suites. If possible, try to plan ahead for future needs. This way you have room for expansion if you need more space later.
Second, think about what types of equipment you will need for your hospital. What types of equipment do you currently have? Do you know what kinds of machines and other equipment you are going to need? How will the equipment affect your floorplans and building designs? Answer these questions to get started with planning your new space. 
Choose a Location Wisely
The location for your animal clinic is critical. Even established practices need to consider location carefully. Think about the pros and cons when choosing your new location. 
With any new location, it is important to find an area that has a need for your services. Choosing a location that will serve your customers' needs is also important. For your vet clinic construction project, you want to be sure that people will be able to get to you easily and are going to be willing to do so.
It's important not only for you and your staff but also for your clients as well! Many things go into choosing the right location for your vet clinic construction project – from traffic patterns around your building to the neighborhood surrounding it.
Building What You Need with Your Trusted Houston General Contractor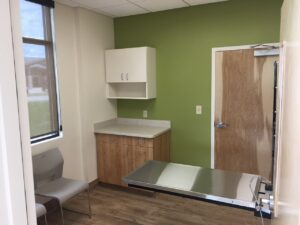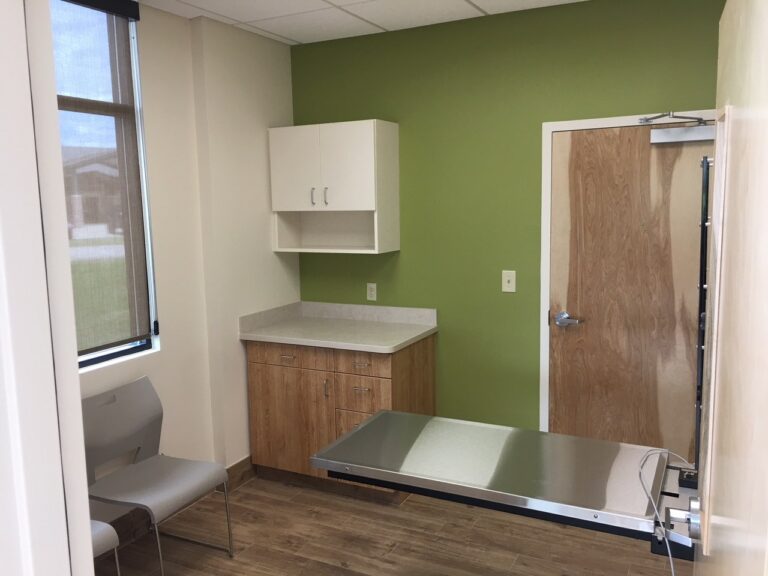 If you are building a new veterinary clinic, you likely have an idea of what you want. Your vision may include different types of rooms and areas.
For example, if you offer surgery in your vet clinic, you need specially designed operating rooms. The design for these rooms will be very different from offices or exam rooms. 
Your Houston general contractor needs to know this in order to make sure that they can plan and build exactly what you need. This allows us to plan a space that perfectly suits your needs. 
Working with a Houston General Contractor for Vet Clinic Construction
When working with a Houston general contractor for vet clinic buildings, it is important that both parties understand the scope of the project from start to finish. It's important to define expectations throughout the design, construction, and completion processes. You also want a Houston general contractor that communicates clearly and honestly so everyone is on the same page at all times.
Meet with Veterinarian Experts
When you're building a new veterinary practice, you want to hire a Houston general contractor who knows the ins and outs of this industry. You want to work with Houston commercial construction companies with experience in veterinary construction who will work hard to make sure that the clinic's needs are met. If you partner with a general contractor who specializes in veterinary clinics, you can rest assured knowing that your vet clinic will be perfect on opening day.
It's also helpful for design teams to meet with your veterinary experts before getting started on designing your new building. This is helpful for creating a space tailored to your practice.
Working with a General Contractor for Veterinary Hospital Expansions and Remodels
If you've decided to expand your veterinary practice, a Houston design build contractor can help. Some reasons why it's important to choose the right general contractor for your project include:
An Experienced Contractor Understands Timing is Critical
Your clients depend on you, and their pets depend on them. You want to complete work with as little disruption to your practice as possible. Hiring a reputable construction company that understands that urgency is critical is important. You need a contractor that meets deadlines, works around your existing schedule, and gets the job done efficiently. This reduces the effects on your business.
Your Houston General Contractor Ensures the Vet Clinic Complies with Regulations
Keep in mind that construction and remodel projects must meet government regulations. As a Houston general contractor, we know the specifics of these regulations. Our team is here to make sure plans are compliant before work begins. Once the architect draws up the plans, we must submit them to all necessary government agencies. Local agencies need to approve the plans before construction begins.
Your Vet Clinic Vision: Create Your Site Plan and Material Lists
The story of your new clinic begins with your vision. Your vision is your mental picture of what you want the clinic to be and how it is going to look and function. The vision might come from a magazine or newspaper article or a clinic that you have seen in operation. A visit to another clinic may spark some ideas for your own facility.
Regardless of the source, the first step in planning is to create the concept for your clinic and translate it into a written statement. This helps keep you on track as you plan, design, and build. With your vision in mind, our team creates a design that fits your vision and also your veterinary practice's needs.
Commercial Construction for Veterinary Clinics
After site work and concrete foundation work is complete, the Houston vet clinic construction process moves on to assembling walls and roofing. During this phase, we create the structural part of the building. This includes steel framing of walls and installation of HVAC ductwork and plumbing.
After completing the structural framing, wall sheathing, and roofing, we move on to interior finishes. During this phase, your Houston general contractor covers the walls with drywall or another type of wallboard. Then, we finish out the ceilings, install all the trim pieces, and complete any painting or wall coverings. This phase also includes flooring, door, and cabinet installation as well.
KCS Construction – Turnkey Design Build for Veterinary Clinics
Constructing your own vet clinic is an important investment. Make sure you trust your design build team. Our experts at KCS Construction offer turnkey services to make the construction process easier. We help with everything from designing your new building to completing the finishing touches on your facility to match your vision. Contact us today to discuss your project with our seasoned pros.