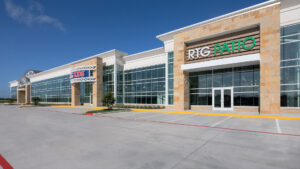 Shopping centers are still a huge draw for customers of all types. While online shopping is more popular than ever, physical stores aren't going away any time soon. These developments can be valuable investments for real estate investors, so long as you work closely with an experienced Houston general contractor. The design of the shopping center is especially key, as it affects how successful the stores and, by extension, the property is over time. In this article, we'll discuss some design tips for shopping centers. 
If you need help with your commercial construction project, contact us now to discuss your project with our experts.
Talk to Your Houston General Contractor About Shopping Centers
There are many phases to the development phase of a shopping center. Making sure that each element of the construction project goes smoothly is critical for ensuring future success as well as things like adherence to budgets and schedules. Managing all this on your own is often too complex, which is why you need a Houston general contractor on your side. 
General contractors are responsible for ensuring the project runs smoothly and meets your standards. They handle everything from ordering materials and scheduling construction activities to hiring the subcontractors needed for specialty systems like plumbing and electrical. Depending on the firm, they can also provide design input based on their experience to help you create the ideal shopping center for your vision.
Why Build a Shopping Center?
With many people shopping online nowadays, why exactly should you build a shopping center? There are many reasons to undertake this Houston commercial construction project. First is that shopping centers often add variety and life to neighborhoods. This attracts many customers to the area, which potential commercial tenants will take note of. After all, there are several types of retail spaces where brick-and-mortar is still necessary. You can't get your hair cut online or virtually dry clean your clothes. Therefore, there is still demand for these centers in communities. 
Design Tips for Shopping Centers from your Houston General Contractor
Part of making sure shopping centers are successful is incorporating design elements proven to make a difference to customers and, therefore, shopping center tenants. A poorly designed shopping center probably won't yield the results you want and may end up flopping. Since people can get many products online from their sofas, it's important to create spaces that really attract the eye and get their attention. Your Houston general contractor can help you design a shopping center perfect for your vision and location. However, here are some general tips to help you get thinking about your designs:
Make Sure There's Plenty of Parking
There's nothing worse than trying to go shopping only to find there's no available parking spaces. This is a huge turn off to customers! Many times, they'll simply leave and never come back. Therefore, it's essential to have ample parking space for your shopping center. 
A 2007 study of 19 Houston-area shopping centers found that on average the shopping centers used about 40% to 70% of the total land area for shopping. However, they also found that the parking lots were underutilized, with average occupancy just 31%. Therefore, it's also important to make sure you don't have too much parking. 
We mentioned the dangers of too little parking, but if you have too much, it's a waste of land and money. It can also make your shopping center look pretty barren and unpopular, which may have people thinking twice before making a visit. 
Create Spaces for Anchor Stores During Houston Commercial Construction
It's also important to make sure that your shopping center has room for an anchor store. An anchor store is generally a well-known name to your customers and draws people to the center where they can then shop at the smaller stores. Anchor stores tend to be things like grocery stores, big box stores, and large name brand stores. These tenants usually need larger retail space than the other tenants in the center. It's also key to ensure that the anchor store is the focal point of the center. Often, this means locating it near frontage roads or in the center of a large space to draw attention. There are many ways to achieve this, and your Houston general contractor can help you decide on the right options based on your specific location, site, and other key details.
Work with Your Houston General Contractor to Make Centers Attractive
Additionally, you want the final product to be aesthetically pleasing. People like to shop in places that they find attractive, so this is important. Never underestimate the need for curb appeal. The exact features and architectural design elements will change based on your location, target demographic, and other factors. However, your Houston design build firm will work with you to ensure that the shopping center is attractive through things like building design, site layout, and things like landscaping.
Make Sure You Have Amenities for Pedestrians
Walkability and foot traffic are becoming ever more important for retail spaces. While many people will drive to your shopping center, don't underestimate the value of pedestrians. Make sure you have amenities that invite them to look around and make purchases for your future tenants. These include things like good sturdy walkways, seating, and awnings to grab some shade. Make sure tenants also have good window space to create displays that encourage people to come in and make a purchase. 
Consider What Building Shape is Best with Your Houston General Contractor
There are many potential shapes to choose from for shopping center buildings. Which you choose really depends on the nature of the shopping center as well as the construction site. Therefore, your Houston general contractor is a great resource for choosing the right shape. Some popular shapes include:
I shape

L shape

U shape

T shape

Cluster
Think About the Types of Stores that Will be in Your Shopping Center
Before it's built, it's almost impossible to secure tenants for your shopping center. However, that doesn't mean you can't plan for the types of spaces that might be in your development. In general, you will have an anchor store, which we've already discussed. However, there will also be smaller stores as well. Some of the most common ones according to the 2007 study include:
Restaurants

Dry cleaners

Laundromats

Fast food restaurants

Banks

Drug stores

Post offices

Gas stations

Clothing stores
Therefore, make sure that your building has spaces that can cater to these diverse types of businesses. 
Choose the Perfect Location with Your Houston General Contractor's Input
As any savvy business owner knows, location is everything. You can have the best design, the highest quality construction, and everything else that makes a development great, yet you can still fail due to poor location. Make sure you choose land that can really be successful as a shopping center. For instance, you want it to be close to your target demographic, as people are less willing to drive across town for retail stores as they once were. Also, you want to be somewhere that gets a lot of foot and vehicle traffic. For instance, shopping centers on feeder roads near popular intersections are often wildly successful. 
KCS Construction – Trusted Houston Design Build for Commercial Projects
For commercial construction projects, choose KCS Construction as your Houston general contractor. Our team offers decades of experience to provide you with top quality construction that is on time and on budget. We work with you at every phase of construction, from land development and site preparation to design and construction. Reach out now to discuss your upcoming project with our construction specialists.