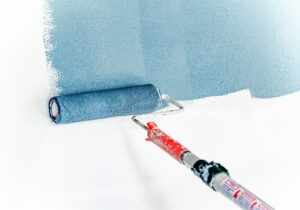 Houston commercial painting for your office walls requires several decisions, including the type of paint, the finish, and the color. It's important to understand the different types of paint so you can make the right decision for durability, longevity, and look. In this article, we'll discuss the different types of wall paint and the pros and cons so you can make the right decision for your commercial building. 
If you need painting services, our experts at Keeton Construction Services offer total solutions for interior and exterior painting. Contact us today to discuss your project with our team. 
Houston Commercial Painting for Interior Walls
Interior walls need a good coat of paint to look nice and also protect the materials underneath from stains and damage. A fresh coat of paint is a great way to make a space look bright and new and personalize it to your business. Interior Houston commercial painting, therefore, is necessary to create a professional and aesthetically-pleasing space. You will likely need interior painting at least every few years to keep your space looking nice. 
Some signs you need to repaint your office walls include:
Dull or dingy looking paint

Paint that is stained or not cleanable

Chipping, cracking, or blistering paint

The wall colors no longer fit your brand

Visible imperfections on the walls
Types of Wall Paint for Houston Commercial Painting
There are many types of interior wall paint to choose from for your building. Each type comes with pros and cons that can make a huge difference for your office. For instance, choosing the wrong paint can increase painting costs, require more frequent Houston commercial painting, and can also affect the overall look of your building. The three most common types of wall paint are oil-based, latex/water-based, and acrylic paint. 
Oil-Based Paint
Oil-based paint is, as the name suggests, uses an oil base mixed with pigments. This is one of the least common paints to use for interior walls, but does offer several benefits. For instance, it is quite thick and therefore hides brush strokes quite easily. It's also really durable against damage from things like impact. It also offers a higher sheen, but does dull over time. 
Some of the disadvantages to oil-based wall paint make it less common for Houston commercial painting projects. First is that it takes a significant amount of time to dry. Also, while it's pretty durable, it's also not very flexible, which makes it more vulnerable to cracking with time. Additionally, oil-based paints are difficult to clean, as you can't use regular soap and water on walls with oil-based paints. During painting, they also release strong fumes and VOCs. 
Generally speaking, it's best to stay away from oil-based paints for your office painting project. If you like the idea of more durable paint, consider using oil based only for things like trim, baseboards, and molding.
Latex/Water-Based Paint
Latex paint, also known as water-based paint, is one of the most commonly used paints for interior Houston commercial painting. Latex paint is water resistant when dry and dries pretty quickly. It's also washable, depending on the finish. It's also flexible, so it doesn't crack the same way that oil-based paint does, and the fumes are minimal. The paint is also relatively inexpensive compared to other types. All these advantages make it a popular choice for office painting. In fact, it's pretty likely that your Houston general contractor used latex paint when your building was newly constructed. 
One of the disadvantages of latex wall paint is that it's somewhat less durable than oil-based paint. It also doesn't blend very well, so it's harder to achieve certain cosmetic effects with two different colors of latex paint. Nevertheless, latex paint is great for painting interior walls, trim, doors, and other surfaces. It's the most frequently used kind of paint for commercial interiors. 
Acrylic Paint
Acrylic paint is very similar to latex paint, except that it has extra added chemicals. This allows it to be more UV resistant and expand and contract easier. It's water resistant and pretty durable. However, it's also more expensive than latex paint. Generally, we recommend acrylic paint for exterior surfaces that need more paint durability, while we recommend latex for interior Houston commercial painting projects, as the paints are very similar but latex is less expensive. 
Paint Finishes to Choose from for Interior Houston Commercial Painting
Another important decision to make for painting your office walls is the paint finish. Paint finish has a huge impact not only on the look of the paint, but also the durability of the paint. Wall paint finishes include flat/matte, eggshell, satin, semi-gloss, and high-gloss.
Flat/Matte
Flat paint finish, also known as matte finish, provides the least shine. You can paint a wall with fewer coats of paint with flat finish paint because it offers good coverage and also hides imperfections on the wall very well. However, it's also the least durable paint finish and it's not washable. Therefore, any smudges are difficult to remove and usually require repainting or at least retouching the paint. This paint is best for low traffic areas. In a commercial building, this type of paint is usually best suited for ceilings only. 
Eggshell
Eggshell paint finish is slightly shinier than flat paint, but still not particularly shiny. It still does well at hiding imperfections in the wall and is slightly more durable than flat paint, though still less durable than glossier finishes. This is best for low to medium traffic areas and isn't often used for Houston commercial painting. 
Satin
Satin finish paint is glossier than eggshell and offers a velvet-like finish. It's generally easier to clean and more durable than flat and eggshell paints. It also still does a reasonably good job at hiding imperfections underneath. However, it also can create streaks and brush strokes, which makes touch ups a little harder later on. This type of paint finish is best for medium traffic areas. In commercial buildings, usually we only recommend satin paint finish on walls that are very uneven and still have significant imperfections after thorough prep work. 
Semi-Gloss
Semi-gloss paint is quite shiny and very durable. It's easy to wash in case of smudges and is also mildew resistant. It's less effective at hiding imperfections underneath the paint. However, for most office walls this isn't a huge concern. The gloss also helps brighten rooms. This is the finish we recommend for interior walls for most Houston commercial painting projects. 
High-Gloss
HIgh-gloss paint is the glossiest paint finish. It's also the most durable and easiest to wash. However, it does a very poor job at hiding imperfections under the paint. The shine also tends to be too much for large areas of coverage. Instead, high-gloss paint is usually used for things like doors, baseboards, and trim where there's a smaller area and where there's more risk for smudges and grime that require frequent cleaning. 
Keeton Construction Services – Trusted Houston Commercial Painting Contractor
If you need interior or exterior painting or coatings, contact our team at Keeton Construction Services. We are a turnkey painting contractor offering everything from prep work and power washing to final touch ups. Our team prioritizes excellence and quality, so you will know that your building will look great after our painting services. As a top Houston industrial painting contractor, we offer painting and coating services for all types of surfaces, including interior, exterior, and even metal painting. Get in touch now to discuss your painting and coating needs with our specialists.