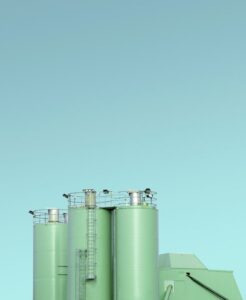 If your business has storage tanks for things like water, chemicals, propane, oil, or wastewater, they need regular Houston commercial painting. Storage tanks are typically made of metal and therefore need extra protection against the elements. Not only that, but painting the tanks can make them look more pleasing to the eye and enhance the look of your property. Depending on your needs, you can even add a logo to them for some extra advertising power. In this blog, we'll discuss Houston commercial painting for storage tanks. 
If you need painting services or commercial construction solutions, contact us today for a consultation.
Why Your Storage Tanks Need Houston Commercial Painting
Storage tanks are generally made of steel to be incredibly sturdy and durable. However, they still need Houston commercial painting. A fresh coat of paint works to protect storage tanks from many issues. Paint and coatings help provide a layer of protection against issues like moisture, humidity, and ultraviolet rays. In turn, regular painting for storage tanks can help prevent issues such as rust, corrosion, and general wear and tear, thus prolonging the life of your storage tanks. 
Another benefit of painting storage tanks on your commercial or industrial property is for aesthetics. Every business needs to portray a professional image to their employees, customers, and the general public. This is true whether you manage an office or an industrial plant. Unpainted or faded storage tanks can detract from the overall professional appearance of your property. Worn, faded, or chipping paint generally gives off a feeling of neglect, no matter how nicely manicured the rest of your building looks. 
Considerations for Painting Storage Tanks
There are many things you should know about Houston commercial painting for storage tanks. You have a lot to consider before your tanks get a fresh coat of paint. 
For instance, think about the color you need for your tanks. Generally, you can choose any color you want. Many choose colors that match their building exteriors or their brand. However, some others also choose colors for safety and warnings. For instance, you might paint chemical or oil tanks red to alert people to the hazardous and potentially flammable contents. 
It's also important to choose a professional team for Houston commercial painting. This ensures that your storage tank paint lasts a long time. An experienced painting contractor has the expertise needed to provide proper surface preparation to the storage tanks. This helps the paint adhere and last longer. Additionally, they can assist with choosing the right type of paint, as metal usually needs special paints with rust inhibitors. Finally, a professional team can make sure that the paint job looks good so it blends in with the rest of your property. 
KCS – Top Painting Contractors
If you need commercial painting solutions, choose KCS as your commercial painting contractor. We are a painting contractor and Houston general contractor to help you get the building you need and keep it in great shape. Unlike many other Houston commercial construction companies, we offer truly turnkey services. With over 20 years in business, we are proud to serve the entire Greater Houston area with construction and painting services. Get in touch today to discuss how our team can help you.