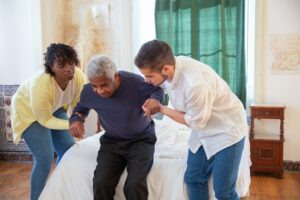 Nursing homes are a type of long-term care facility that provide a home and a place to get skilled nursing care. Houston commercial construction for nursing homes, therefore, can be quite difficult. Making sure that everything suits the needs of patients and staff is a delicate balance, so it's important to choose the right general contractor for your needs. You need a contractor that has experience in healthcare facility construction that can also create comfortable residential spaces. 
Unique Challenges of Houston Commercial Construction for Nursing Homes
There are several unique challenges of constructing nursing homes. Ensuring nursing home design is well-suited for both healthcare staff and patients who make the facility their home is critical. Therefore, you need a space that is both homey and welcoming while also able to store medical equipment and allow for healthcare staff to provide quality care to patients who need their help.
This can be a difficult dichotomy to design for. Creating a healthcare facility that also is home-like and relaxing requires experience. Therefore, it's important to work with a Houston general contractor that has the expertise you need for nursing home construction.
Design Considerations for Nursing Homes
Design is one of the most important parts of Houston commercial construction for nursing homes. Here are some key design considerations for nursing homes:
Infection Control:

The

pandemic has shown us gaps in nursing homes

with regards to infection control. Reducing communal space and providing private spaces for nursing home residents can help reduce the spread of things like COVID, the flu, and pneumonia. 
Quality of Life:

It's also important to consider resident quality of life when designing and building nursing homes. Allowing as much independence as possible and ensuring they have areas to take part in things like socializing, exercise, and entertainment are all important for happy residents.
Navigability:

Many nursing home residents struggle with mobility issues and vision impairment. Making sure that the building design is tailored to these needs is important. Ensuring things like non-slip flooring, visually simple interiors, and larger corridors can all help with this. 
When designing your nursing home for Houston commercial construction, your general contractor can help you determine the best options. Working with a design build team means everyone collaborates to ensure your project goes smoothly.
KCS Construction – Your Trusted Houston General Contractor
For commercial construction excellence, choose KCS for your needs. We have been in business for over 21 years and offer the expertise you need for your project, whether you're building a nursing home, a retail shop, or a warehouse. Our team offers superior design build service that other Houston commercial construction companies can't match because of our dedication to quality. Get in touch now to discuss your project with our experts.