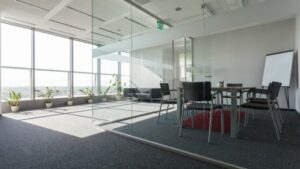 Your general contractor in Houston is your partner in making your construction project go smoothly. Whether you're building a warehouse, office, or retail store, your GC manages everything for your project so you have peace of mind it will be successful and meet your needs for budget and schedule. One thing that many projects are trending toward is constructing healthy buildings. With more and more people aware of what healthy buildings are, make sure you ask your general contractor about these design and construction principles and how they apply to your new building. In this article, we'll discuss some things you should know about healthy buildings before you start a commercial or industrial construction project. 
For expert construction services in Houston, contact our experts now at Keeton Construction Services Construction.
Talk With Your General Contractor in Houston About Creating Healthy Buildings for Your Project
Your general contractor is your go-to resource for all things construction for your project. They are the ones overseeing every aspect to ensure your project goes off without a hitch. So, they're the perfect party to ask about healthy buildings. Whether you're just hearing this term for the first time or you're well-versed in why you need a healthy building on your property, the GC for your project offers a wealth of knowledge and experience to ensure you get the right solutions for your needs. 
You can work with your general contractor to determine whether you can benefit from using healthy building practices for your construction project and how to incorporate them. Then, your GC can manage designs and construction efforts to perfectly fit your needs and expectations. Since they offer decades of construction experience, make sure you discuss healthy buildings with your contractor.
Benefits of Healthy Commercial Buildings
There are many reasons to consider healthy building design for your commercial construction project in Houston. Therefore, you should talk through the pros and cons with your general contractor to determine if this is the right choice for your project. 
For one, healthy buildings are closely tied with better performance and productivity. Research shows that employees perform better on many types of tests that mimic work tasks when they're in workplaces that follow healthy building principles. Therefore, it can be incredibly helpful for productivity and revenue for commercial buildings to also be healthy buildings. 
Another reason you might consider healthy building construction for your commercial project is that it is a great selling point. More and more people are aware of the benefits of healthy buildings, from businesses looking to lease commercial space to employees in the job market. A healthy building is a more desirable building that can attract the people you want to your space, whether you're a real estate investor looking to lease your new building or a business building a workplace for your operations. 
Finally, don't forget that healthy buildings also promote healthier occupants. When you work with a general contractor to create healthy buildings for your project, you're prioritizing human health for your tenants, employees, and customers. 
What are Healthy Buildings?
So, what are healthy buildings? If you haven't heard this term before, then you might be confused on what this means. Healthy buildings are essentially buildings that use certain design and construction principles to be healthier for occupants and, often, more sustainable. The average human spends about 90% of their life indoors, meaning that buildings play a really significant role in health and well-being. The idea behind healthy buildings is to ensure that indoor environments promote better health. Research from Harvard shows that there are several important factors of healthy buildings and that they can improve wellness for people who spend their time inside them. As such, it's important to consider using healthy building characteristics for commercial buildings, which serve as workplaces as well as sources of entertainment or shopping for consumers. 
How Your General Contractor Designs & Builds Healthy Buildings
Your general contractor in Houston can help you ensure your project meets healthy building recommendations so you can promote health for building occupants. If you like the sound of healthy buildings and all the benefits they have to offer, then it's essential to talk to your GC about how to incorporate these principles into your building's design and construction process. There are several ways that your general contractor can create healthy buildings that fit your concept. The right GC will have knowledge on the research and recommendations out there for healthy buildings. They can also use design build construction methods to ensure everyone is on the same page and that all those recommendations are followed.
Your General Contractor Follows Research & Recommendations for Building Healthy Buildings
If you want a healthy building at the end of your commercial construction project, then you need the right general contractor, which means one that stays up-to-date on current research and recommendations for healthy buildings. This is a relatively new concept based on significant scientific research from recent years. Keeping up with this information can help your GC apply current recommendations for healthy buildings for your project. As such, it's important to make sure you work with a team that stays informed on healthy building research. 
The GC Can Use Design Build Methods to Execute Healthy Building Construction
One great way to create healthy buildings for your commercial construction project is to work with a general contractor that offers design build construction methods. Design build is a concept where one team handles both the design and the construction of your building. Essentially, one team is in charge of each phase of construction, which is incredibly efficient in making sure that everyone is on the same page and follows the right guidelines for your building. When it comes to building healthy buildings, this is critical. The design team will incorporate things that are important for healthy buildings and then the construction team will execute them during the building process. With design build, there's little room for miscommunications about the project's scope or needs.
Important Elements of Healthy Buildings
Harvard has identified nine important elements or "foundations" of a healthy building. Your general contractor in Houston can help ensure your building meets recommendations and standards for each of these elements to create a healthy building for your project. The nine elements are:
Ventilation

Air quality

Thermal health

Moisture

Dust & pests

Safety & security

Water quality

Noise

Lighting & views
Each of these plays a key role in promoting health inside your new building. For instance, good indoor air quality is critical for respiratory health, while moisture control helps prevent mold and mildew growth and noise control helps stop unnecessary distractions as well as hearing loss from significant noise levels. To meet these recommendations, your general contractor may recommend certain ventilation system equipment, providing better insulation for the building, or even using sound dampening materials for construction, just as a few examples. 
Commercial Construction in Houston from Keeton Construction Services Construction
When you need expert construction for commercial or industrial buildings, choose our team at Keeton Construction Services Construction. We offer over 22 years in the business and have a proven track record for successful completions. Our team prioritizes quality while upholding budget and schedule constraints to ensure your project is completed according to plan. Trust our team for any project you have, from office buildings and retail centers to healthcare and industrial facilities. Contact us now to discuss your upcoming project with our construction pros.