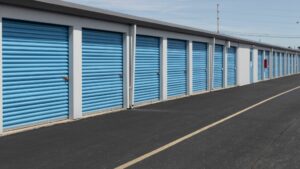 Are you considering building a new commercial storage facility? Houston commercial construction companies can help take your plan from paper to project completion.
Planning and executing a new construction project can be exciting yet stressful, especially when it comes to commercial storage facilities. There are many storage options available in Houston, so it's important to develop a facility that stands out from the competition and attracts business customers.
With so many factors to consider, working with commercial construction companies in Houston can help you plan ahead and have all the necessary steps in place from the beginning of the process. Here are some tips to help ensure that your construction is successful and meets your vision for a new commercial storage facility. We're here to help—contact our experienced team to discuss your project today.
Assess the Market to Determine the Storage Requirements for Local Businesses
Before you start your construction planning, you should conduct comprehensive market research to ensure that there is demand for this type of storage space in your area. One of the essential steps in your research process is assessing the area to determine the local companies that require business and commercial storage facilities.
Depending on your location, there may be a variety of local companies that require business and commercial storage solutions. For example:
Retail stores may need space to store seasonal merchandise or excess inventory.

Construction companies may need a place to store tools and equipment.

Law firms or medical practices may require storage for large quantities of paper files.

Transportation companies may need parking spots to store trucks or trailers.
By identifying these companies and their unique needs, you can tailor your storage facilities to meet their specific demands, ensuring that your facility is in high demand and profitable for years to come.
Identify a Location with Quick Access to Major Roads
When it comes to running a local business, time is money. That's why having quick access to major roads is essential for businesses that will use your commercial storage facility. They will want to transport goods to and from your storage unit easily and efficiently, without having to spend extra time navigating through congested city streets.
Look for a location that has quick, easy access to a major roadway. This proximity makes it a prime location for local businesses that need quick and convenient access to their stored inventory or equipment. The right location is key to drawing in commercial customers who want to streamline their business operations and boost productivity.
Select a Site with Ample Acreage for a Storage Facility
When it comes to choosing the perfect site for your storage facility, acreage is key. The amount of space you need will depend on whether you plan on building a one-story or multi-story facility. Usually, a single-story development would need around 3 to 5 acres, depending on the topography and shape. For a multi-story site, the requirement would be around 2 acres.
You will also need to consider if you want to offer exterior storage space for trucks, heavy equipment, or trailers. Having a site with sufficient acreage will not only allow for ample truck and trailer storage, but also give you room to expand your facility in the future if needed. It's important to take into consideration the potential growth of your business and think long-term when deciding on a site.
Houston commercial construction companies offer invaluable assistance in initial site estimation for your pre-construction planning. Their expertise in conducting thorough site evaluations provides insights into the land's suitability and potential construction challenges.
Design the Best Storage Facility for Your Market
Designing the ideal storage facility for your market can be a challenging task, but with the right approach, you can create a space that meets the needs of a variety of businesses.
When considering the design of your storage facility, it's important to think about the types of items your customers will be storing. Whether they need to house excess inventory or large tools, you'll want to ensure that you have small and large storage units available.
If you are going to offer outside storage space, you will need to decide if you are going to offer covered and/or uncovered options. This can provide customers with added flexibility and protection for their valuable belongings.
Overall, creating the best storage facility design for your market requires careful planning and attention to detail. Experienced commercial construction companies in Houston can provide valuable insight into the optimal storage facility design.
Invest in Reliable Security Features for the Property
Keeping your commercial storage facility secure is vital, particularly when you consider that businesses may be storing tens of thousands of dollars' worth of equipment or more. With so much at stake, it's no wonder that security is a top concern for businesses.
To ensure that your facility offers the highest level of security, there are several critical elements that should be in place. Individual unit access, fencing, gate systems, and video security systems are all essential. By taking these measures, you'll be able to give your customers peace of mind and protect their valuable belongings from potential theft or damage.
Other Critical Elements of a Top-Quality Storage Facility
Constructing a commercial storage facility requires attention to detail and consideration of all the necessary elements. For example, you may want to ensure you have durable concrete parking and paving for heavy trucks. The storage facility should have adequate lighting both inside and outside the building, and HVAC systems are necessary to maintain the required temperature for any climate-controlled items.
Houston Commercial Construction Companies Work for You
For efficient and quality turnkey services from experienced Houston commercial construction companies, you can rely on our skilled team at Keeton Construction Services Construction. Our crews are experts in their field with years of experience building both large and small projects alike. We understand cost control and overall budget optimization, which is why we continually look for new ways to increase efficiency while maintaining the highest level of standards.
From start to finish, we provide what you need without any hassle or surprises in between. As proud members of the Houston community, let us show you what quality construction services should be like. Contact us for a quote today and see firsthand why we have become one of the most trusted names in commercial construction across Texas.