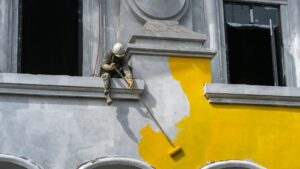 As a business owner, you know that first impressions matter. Your building is the face of your business and it's important to make sure customers have an enjoyable and lasting impression when they visit or even just drive by. 
One of the best ways to keep your building in top condition and looking its best is through regular maintenance, including Houston commercial painting services for the exterior. This can also freshen up its appearance while giving visitors a great initial sense of what to expect from you and your business. 
In this post, we'll discuss how commercial painting can help take your property to the next level and why it should be part of any comprehensive maintenance plan. To get a quote for your exterior painting project, contact us today.
The Benefits of Commercial Painting to Refresh Your Building Exterior
When it comes to refreshing your building's exterior, there's no doubt that Houston commercial painting can make a major difference. Not only does a fresh coat of paint give your building a clean, updated look, but it can also protect it from weather and other wear and tear. 
There are many different types of exterior finishes that can be painted, including: 
Each material requires a different approach to achieve the desired result, but in the end, the benefits are clear. With the right commercial painting service, you can give your building a facelift that will impress anyone who sees it.
Choosing the Right Paint Color and Finish for your Commercial Building Exterior
Choosing the right paint color and finish for your commercial building exterior can make a significant difference in its overall appearance. Not only do you want to select a color that is visually appealing and is consistent with your brand, but also one that will complement your surrounding community. The finish of the paint is also important, as it can impact how long the paint will last before fading or chipping. 
Whether you want a glossy or matte finish, it is crucial to consider the location and weather conditions of your building to ensure that the paint will stand up to the elements in our Gulf Coast climate. Taking the time to select the perfect paint color and finish can transform your commercial building into an eye-catching and inviting space for your customers and visitors.
Estimating Time and Cost for Your Exterior Painting Project
As a business owner, you want to ensure that your Houston commercial space looks its best. A fresh coat of paint on the exterior can do wonders for your building's appearance and curb appeal. 
However, before you dive into the project, it's important to estimate the time and cost involved. Hiring a professional Houston commercial painting company can help with this, as they can provide you with an accurate quote and timeline. 
Factors such as the size of your building, the condition of the current paint, and the type of paint you choose will all impact the cost and time required for the project. By taking the time to estimate these factors, you'll be able to plan and budget accordingly for a stunning exterior transformation.
Hiring a Professional Commercial Painting Service in Houston
Giving your business a fresh coat of paint can do wonders for its appearance. However, when it comes to commercial painting in Houston, it's best to leave it to the professionals. Hiring a professional commercial painter can save you time, money, and hassle in the long run. Not only do they have the necessary tools and expertise to complete the job efficiently, but they can also offer suggestions and guidance on color choices and finishes. 
Plus, a skilled painter can help ensure that your paint job lasts for years to come, improving the overall durability of your building's exterior or interior. So if you want to give your business a new look, consider hiring a professional commercial painter today.
Your Contractor Will Prepare the Building for Painting 
A Houston commercial painting contractor should meticulously prepare a building before beginning an exterior commercial painting project. This crucial step ensures that the finished product is both visually appealing and durable. 
The preparation process may include pressure washing the building to remove dirt, grime, and loose paint, as well as scraping and sanding any remaining loose paint. Any cracks or holes in the building's exterior should also be repaired, as these imperfections can negatively impact the finished product. 
Additionally, ensuring that the surface is completely dry and free of debris is essential before beginning the painting process. Overall, an experienced and reputable painter will take the time to properly prepare the building. This is vital to achieving a successful and long-lasting exterior commercial painting project.
Houston Commercial Painting from KCS Construction
Proactively scheduling a commercial painting project helps ensure that you'll get the most out of your investment, as well as create an improved first impression for those visiting. At KCS Construction, we are here to provide the highest quality commercial painting services at competitive market rates. Our team strives for excellence with every project while utilizing top-of-the-line technology and equipment, all with your safety in mind. 
Reach out to discuss how we can enhance the performance and appeal of your property through professional commercial painting services. Contact us for a quote now.