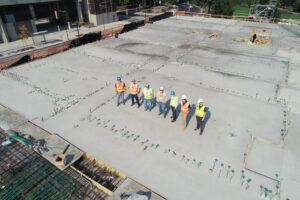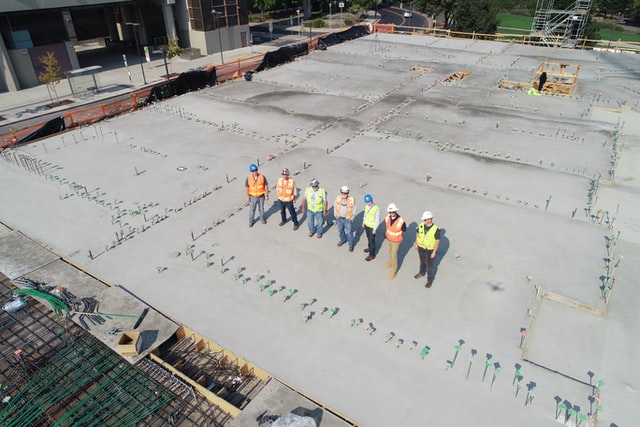 Tilt wall is an efficient building method that offers speedy completion for construction projects and durable, long-lasting buildings. The manner the concrete structural supports, columns, and walls are made is the primary feature of Houston tilt wall construction that distinguishes it from other types of building. The concrete walls and other structures are poured and cured on the ground. Then, our teams lift them into a vertical position by crane to create your building.
While tilt wall construction can be the most economical and speedy approach for constructing a range of structures, it necessitates extensive planning up front, which should start at the design process.
You should have a skilled tilt wall contractor like our Houston tilt wall construction company for your project. Working with a turnkey tilt wall contractor will make the design and construction processes easier to run smoothly and reduce the possibility of expensive adjustments being made in the middle of the project.
Houston Tilt Wall Construction Design Considerations
Here are some factors you should consider while planning and designing your Houston tilt wall construction project.
Panel Design
Avoid using different panel widths when determining panel size. In this manner, you can maintain the lifting and rigging configuration throughout the project. Changing the crane rigging frequently takes time and creates inefficiency. Using the same width for the panels can reduce forming and labor expenses if the project calls for stack-casting of panels. Maintaining uniform panel widths also enhances the aesthetic of the completed structure. You should also consider the wind bracing required while determining panel width. You may need more than two wind bracings for panels wider than 20 to 22 feet.
To minimize the necessity for specialized formwork, the thickness should, wherever feasible, correspond to conventional timber sizes. Keep panel thickness constant for each wall elevation to maintain consistency of interior finishes and panel formwork.
An architectural tilt wall structure can look better with reveals and better fenestration ratios. However, employing reveals typically necessitates thickening the panel more than a structural assessment would indicate. Use the smallest reveal size feasible to meet architectural standards while saving money.
Site Layout for Houston Tilt Wall Construction
Before any work can start, you must design a comprehensive site layout for a tilt wall project to be effective. An ineffective construction process can negatively impact your project's success. That's why a well-designed plan is critical for your project.
A site's design influences the development cost, materials, time, equipment, and labor. Therefore, it's essential to meticulously map out the site during the design phase. This way, we can plan for the positions of every element of the new development. This is crucial since a successful and economic tilt wall construction depends on a well-engineered site.
Without a good site layout, developments typically cost much more due to delays and last minute changes.
You should ask yourself several questions if you want your commercial tilt wall project to run as smoothly as possible.
Can you cast all the panels you need on the ground of the construction site?

Can the crane enter and navigate the area readily?

Are there any overhead lines that might need to be moved before installing panels?

Where will the site office be situated?

Is there enough space for materials, subcontractor trailers, and equipment storage?
Building Envelope Performance
The tilt wall construction style is becoming more popular because it delivers a seamless layer of insulation that prevents thermal bridging and meets new building code standards for thermal performance.
You should consider the mechanical and heating equipment by minimizing the overall design load during the design phase. This will allow a more reliable building temperature regulation.
Slab Design
It's important to consider construction loads for your project's concrete slab. For instance, loads from cranes and concrete trucks driving over the slab. It's also necessary to think about the required thickness for drilled-in inserts.
Slab designs also need to include the joint types and positions in the construction details. This ensures that the floor slab will be done in time for the other panels to be tilted into place and that it can handle the loads of the building.
Exterior Finishes for Tilt Wall Construction in Houston
Houston tilt wall construction provides virtually limitless options for external treatments, including exposed aggregate, brick veneer, and unlimited form-liner options.
There are many options, so it's important to know what aesthetic you need for your building. From there, our team can find solutions based on your needs and budget.
Foundation
There are various types of foundation options depending on the climate and soil conditions. You can erect tilt wall panels on continuous footings, spread footings, and drilled piers.
Each of these foundation systems has a certain amount of risk. Differential foundation motions might result in damage to the superstructure of the building and its architectural elements. Each of these systems has a corresponding relative building cost. The risk degree is often inversely proportional to the degree of expense when comparing the various foundation systems.
For instance, many building owners choose shallow foundations because they cost less and take less time to construct. However, they often carry a higher level of risk than deep foundations.
All these foundations have pros and cons, and it's crucial to analyze the site to decide on the foundation that best suits it.
Our experienced Houston tilt wall construction company experts can help you choose the best foundation option for your tilt wall project.
Tilt Wall Solutions from a Top Houston Commercial Concrete Contractor – Keeton Construction Services Construction
These are only some of the factors to take into account while designing a tilt wall construction project.
While Houston tilt wall construction differs from traditional methods and necessitates careful planning, it has clear benefits over them in terms of economy, the environment, and aesthetics. Furthermore, tilt wall constructions can be virtually anything.
In addition to coloring, painting, and other finishing techniques for concrete, you can use stamping and external coatings to provide a tilt wall building with practically any finish, including those that resemble brick, natural stone, or even wood.
Our teams at Keeton Construction Services Construction offer turnkey design build for your construction projects. Contact our professionals today to get started with your tilt wall construction project.
We are a seasoned Houston commercial concrete contractor offering various building techniques, such as tilt walls. Over more than 20 years of operation, we have completed numerous commercial and industrial projects. We are the best compared to other Houston commercial construction companies.
Get in touch with our Houston tilt wall construction company professionals for a project consultation.