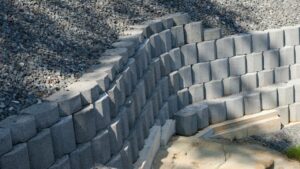 When you own a commercial property, the last thing you want to worry about is issues with your landscape. Unfortunately, drainage problems and soil erosion due to water runoff can be difficult to solve without a retaining wall. If your property is situated on a hill or within an area that receives heavy rain, it could be time for you to invest in a retaining wall for your business's outdoor space. Read on as we discuss some common signs that point to the need for one and how your Houston general contractor can help.
As a local and experienced general contractor in Houston, we can help develop and construct the right retaining wall for your property. Contact us for a quote today.
Problems that Need Mitigation by a General Contractor in Houston
Erosion Caused by Water Runoff or Soil Movement
Erosion is a natural process that occurs in many landscapes. However, when it starts to noticeably impact your property, it may be time to consider a retaining wall. Water runoff and soil movement are two major contributors to erosion. They can cause serious damage to your outdoor space. A proper retaining wall can prevent erosion. If you notice erosion on your property, it's best to act quickly to determine whether a retaining wall is the best solution for you.
Cracks In the Foundation of Your Building 
As a Houston general contractor, it is important for us to inform our clients of any concerning signs that indicate they need a retaining wall. One of the most significant signals is the presence of cracks in the foundation of a building. These cracks may seem minor at first, but they can grow into more significant problems if left unaddressed. A retaining wall serves as a barrier to prevent soil erosion, preventing any further damage to the foundation. If you notice any cracks in your foundation, don't hesitate to reach out to your trusted contractor right away.
Uneven Ground Around Your Houston Property Needs a General Contractor
If you're dealing with sloped or uneven ground around your property, a retaining wall could be the answer. Retaining walls are not only functional, but they can also help increase your property's resale value.  If you ever decide to sell, a wall adds an important aesthetic element to your landscaping. With a retaining wall, you can transform uneven and sloped terrain into a functional and beautiful landscape feature.
Damage to Neighboring Properties Due to Poor Drainage 
As a Houston general contractor, we understand the importance of proper drainage systems and the potential for property damage if they are not in place. This could mean not only damage to your property, but your neighboring buildings as well. A retaining wall helps to redirect water flow away from your neighboring properties to help prevent future complicated insurance issues. So if you're concerned about preventing damage to neighboring properties, consider working with our team of professionals to design and install the perfect solution.
Standing Water Near Your Building After Heavy Rainfall
Houston is known for its stormy summer weather. Heavy downpours can leave standing water near your building or on the lawn. This can be a major problem, as it can lead to water damage and other issues. However, there is a solution: a retaining wall. By installing a retaining wall, you can redirect the standing water away from your property and prevent it from causing damage. With a retaining wall, you can enjoy peace of mind knowing that your property is protected from the damaging effects of standing water.
Retaining Walls Created by Your Trusted Houston General Contractor
Retaining walls provide a wide range of benefits to commercial properties. They can help prevent soil erosion, improve the strength and stability of your property, and add aesthetic appeal. Installing a retaining wall can be a significant investment. However, it's worth it in the long run to ensure the safety and stability of your building and property.
Retaining walls are made from a variety of materials, such as concrete, stone, or brick, and they can be designed to fit your specific needs and preferences. It's always best to consult with an experienced Houston general contractor before commencing any project, especially one as strategic as constructing an effective retaining wall. 
Our team at KCS Construction has both the experience and knowledge to ensure your retaining wall is properly constructed for long-term use. So if you think your commercial property may be in need of a retaining wall, don't wait – contact KCS Construction today.