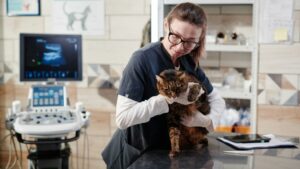 When it comes to hygiene, durability, safety, and aesthetics, epoxy floor coatings are the perfect solution for vet hospitals. An industrial painting contractor can help apply these durable coatings to your floors quickly and efficiently.
Not only do epoxy coatings offer an increased level of cleanliness, but also provide greater protection against chemical or other spills that can occur during the long hours treating pets.
Keep reading to find out why using epoxy floor coatings are so effective in veterinary hospitals. We are one of Houston's most experienced industrial specialty painting and coating contractors. Contact us today to get an epoxy floor coating quote.
Epoxy Floor Coatings Benefit Health and Safety
When it comes to providing top-notch care for animals, having a clean and safe environment is key. That's why it's worth investing in quality epoxy floor coatings specifically designed for veterinary care facilities. These coatings provide a durable and long-lasting surface that resists chemicals and abrasions. They also have a texture that provides a secure grip for footwear, helping to prevent slips and falls.
They are also easy to clean, helping prevent the growth of harmful bacteria. In a veterinary setting that sees multiple breeds of animals with a wide range of health concerns and conditions, this aspect is absolutely critical.
Plus, with a variety of color and design options available, epoxy coatings will not only improve the functionality and safety of your facility, but also add a professional and inviting aesthetic.
How to Add Epoxy to Your Floors
When it comes to preparing a facility's floors for an epoxy coating, an industrial painting contractor has the expertise to get the job done right.
The first step is to carefully assess the condition of the floors, identifying any areas that need repair or preparation. This may involve cleaning, grinding, or filling in cracks and holes to create a smooth, even surface.
Once the floors are properly prepared, the epoxy coating can be applied using high-quality rollers and brushes to apply the product in thin coats. It's important to avoid overbrushing to prevent bubbles or streaks.
Once applied, the epoxy should dry for at least 24 hours before being walked on. However, full curing time may vary depending on temperature and humidity levels.
Select an Experienced Industrial Painting Contractor for Your Project
If you have decided to add expoxy floor coatings to your vet facility, you know that selecting the right contractor is key to ensuring your project is a success. But with so many contractors to choose from, how do you know which one is the right fit for you? One critical factor to consider is their experience with applying epoxy coatings. You'll want a contractor who has a proven track record of working with these coatings and who knows how to apply them correctly for optimal results. By taking the time to find the right contractor, you can be confident that your industrial painting project will be completed to the highest standards, leaving you with a smooth, long-lasting finish.
For any industrial painting needs, KCS Construction has the expertise and experience to make sure the job is done right. With years of successful projects under our belt, we're confident we'll deliver quality work that will exceed your expectations. Contact us today for a free quote!