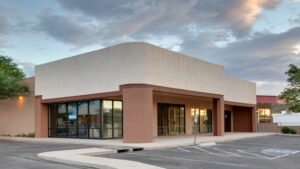 If the exterior of your Houston commercial building is showing significant signs of wear and tear, you may be looking for a new, durable exterior  finish to weather the hot and humid Texas climate. You can work with a Houston general contractor to choose materials that offer long-term protection from harsh environmental elements while also beautifying your property and boosting curb appeal.
In this post, we'll discuss some common exterior finishes and how they hold up to Houston weather. To get a quote for your refinishing project, contact us today!
Houston Climate and Weather Can Take a Toll on Building Exteriors
Heavy rains, intense sunlight, and high winds—sounds like a day in Houston! Such extreme weather patterns can seriously affect the exterior of buildings, causing faster-than-normal deterioration. Our city's climate is known for its heat and humidity, with summer temperatures often soaring into the triple digits, and high UV from the sun. Major thunderstorms are a common occurrence throughout the year—and don't forget the annual hurricane season that runs from June to November.
A Houston general contractor must consider these challenging weather conditions when constructing or renovating commercial buildings in Houston. To help combat the effects of the climate, heavy-duty finishes are critical to increase the durability and longevity of the building's exterior. Proper maintenance is also important, ensuring the exterior can withstand Houston's weather patterns for years to come.
Brick Exterior – Long Lasting and Durable
When it comes to building exteriors, brick is a versatile and popular choice. Not only does it provide a classic, timeless look, but it also boasts impressive durability and longevity. Brick is resistant to weathering and erosion, making it an ideal material for our humid and occasionally stormy climate. 
Beyond its practical benefits, brick also adds a sense of warmth and character to a building. With its many advantages, it's no surprise that brick remains a go-to option for many commercial buildings in Houston.
Stucco Exterior – Withstands Heat
Stucco is an excellent choice when it comes to durability. Stucco is a cement-based material that is applied in layers, providing a sturdy and long-lasting barrier against the elements. One of the benefits of stucco is that it can withstand the extreme temperatures of Houston's hot summers without cracking or warping. 
In addition, stucco is fire-resistant and can even help improve energy efficiency by keeping the building cooler in the summer and warmer in the winter. Overall, it is an excellent choice for commercial buildings, providing both protection and energy benefits.
Aluminum Exterior – Lightweight and Low Maintenance
Aluminum panels offer a unique solution that is affordable and durable. These panels are lightweight, easy to cut and install, and can withstand harsh weather conditions. Their sleek appearance can also add a touch of modernity to any building. Compared to other exterior options, aluminum panels generally require less maintenance and can last for many years. 
Additionally, they are environmentally friendly and can be recycled, making them an ideal choice for those who are conscious about sustainability. With all these benefits combined, aluminum panels offer a great way to enhance a building's look while keeping costs low.
Refresh Your Current Exterior with Houston Commercial Painting by a General Contractor
Houston's humid and unpredictable weather can take a toll on the exterior of commercial buildings. However, you don't need to go through the hassle and expense of a complete material replacement to give your building a refreshed look. This is where commercial painting comes in. A professional painting job not only improves the look of your building, but it can also help protect deterioration from harsh weather conditions, increasing its longevity. 
An Experienced Houston General Contractor You Can Trust – KCS Construction
Owning a commercial building is an investment and one that you want to preserve for many years. A Houston general contractor can help ensure that your building not only looks its best but is also durable enough to withstand the harsh climate of the city. The right materials chosen for the exterior can give your commercial building an aesthetic lift and also protect it from wear and tear year after year.
We have the expertise in material selection, construction, design, installation, and maintenance so that you have peace of mind knowing your building is future-proofed and safe from decay or weather-related damage. Take advantage of this knowledge today by contacting us for a quote. We can give your commercial exterior the upgrade it deserves!